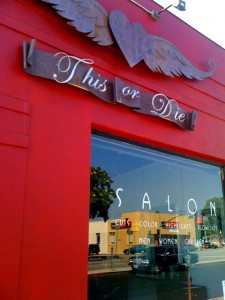 We at This or Die Salon, pride ourselves of having an amazing team of stylists whom continue to achieve great hair design and color for our clients. We apply each cut and color for the individual, creating a custom look just for you. We take into consideration, the shape of your face, skin tone, and personal style. Creating sophisticated looks that are technically precise and effortlessly chic. Looks that are modern, have great movement, and are easy to recreate day after day.                                 
The salon has a modern-elegant sense of style, a clean-sleek-custom interior, with a Rock n' Roll atmosphere. We carry sustainable hair products that are good for the environment and you!                                                                                       
Located in the Heart of Atwater Village, This or Die Salon stands out amongst the rest!






PAYMENT AND GRATUITY
We accept Cash, Apple Pay, Mastercard, Visa, American Express & Discover.
PRICING
Hair and chemical services may vary according to individual stylists, coloring techniques or length of hair.
CANCELLATIONS
A $30 fee applies to all missed appointments and appointments cancelled with less than a 24 hours notice, per service booked.
CHILDREN
For the safety and comfort of all clients, children in the salon under the age of 12 must be accompanied at all times by a guardian who is not receiving hair services that day.
CELL PHONE USAGE
We ask that clients refrain from speaking cell phones in the salon, texting is ok.
Thank You!